While you may not be a professional plumber or a contractor, you may as well have some sort of plumbing tools in your toolbox. Tools such as a movable wrench or a pipe wrench, a drill machine, plyers, etc. are quite common in almost every household since there are several minor wrecks that most homeowners can handle themselves. But when something bigger happens to a plumbing system in your house, you will most likely call an expert to take care of it. And an expert will arrive with an impressive array of professional tools to get the job done. And there is a high chance that almost all of them will be on the list below. Want to know what those tools are? Read our article to find out about the top new plumbing tools in 2021. Maybe you will want some of them to expand your own domestic plumbing toolset.
NOTE:
But before we start, there is one thing to make clear. Some of the tools below are for professional use, and there is no need to invest in them if you're not planning to use them regularly.
Another thing to pay attention to is that each tool on the list requires knowledge and experience to handle.
1. Safety Equipment
First things first, you should never get down to work without taking safety measures. This means that you need to add several safety items to your toolset. And while plumbing isn't necessarily a risky matter, still, in certain situations, you could use a pair of gloves, safety goggles, or a plunger.
When handling plumbing issues, it is no surprise that you may encounter substances that you don't feel like touching with your bare hands. Besides, when working with pipes and other metal items, you will want to have your hands protected. Another thing to take note of is that with gloves, you will always have a better grip on wet objects, which will not only make your working process faster but also safer. Take a look at the 3100L-DZ-Parent latex gloves set by G&F Products. These gloves are a good place to start.
When getting down to work, you must remember one simple thing: anything can happen. And while working, the safety of your eyes is always the number one concern. So don't neglect it and get protective goggles. There is a vast choice of protective goggles out there. One of the best offers in that matter is Wildland OTG Eye Protection goggles by Sellstorm.
You just can't imagine a plumbing toolset without a plunger. There may be next to no plumbing tools in a house, but there will always be a plunger. Not much of a safety tool but something extremely handy. Among the best plungers on the market in 2021 is the Neiko 60166A.
Proper lighting of the site you're working on is crucial. Without it, you can hardly expect to succeed. Especially if you have to take care of plumbing issues in a house without electrical power. What you need is a reliable portable site light capable of working for several hours. One of the best choices, if you're looking for such an item, is an M18 RADIUS LED Compact Site Light.
With an output of 2k lumens, The M18 RADIUS can work for 18 hours, giving your solid confidence that you will not be left in the dark the moment you least expect. One more thing about this light is that it boasts a durable build quality which is a major specification for an item that may be exposed to a certain amount of abuse during construction works.
2. Wrenches
Now we're talking business because this section is solely dedicated to the basic plumbing tool, something that makes it impossible to even imagine a successful plumbing project – a wrench. Below, we will cover some of the most popular wrenches in 2021.
A pipe wrench is number one on our wrench list. Pipe wrenches are quite big, and usually, plumbers use them in pairs – one wrench is used to hold a pipe, and another wrench is used to slacken the nut. In older days, plumbers or crafty homeowners used to keep a few pipe wrenches in their toolsets. But today, things are much easier. Take a look at the Cheater Adjustable Pipe Wrench by Milwaukee Tools. What makes this pipe wrench so special is that it comes with replaceable handles of different lengths. This way, you don't need two pipe wrenches for different situations. Instead, you can just replace a short handle with a longer one, and you're ready to go.
A movable wrench is another must-have for someone eager to take on plumbing. This type of wrench is used for hexagonal pipe nuts and fittings. Usually, they come in a variety of sizes, but the most frequent ones are the 6-inch and 10-inch movable wrenches. One of the best choices is a Bahco movable wrench.
This is an X-shaped tool designed for smaller tasks. There are many faucet keys on the market. One of them is a HAUTMEC 4-way faucet key.
A basin wrench is a T-shaped tool that plumbers use to install spigots. A very useful device since installing spigots often requires a plumber to go down into tight spaces with little to no room for maneuvers. There's a high-quality basin wrench by RIDGID – 31175 Model 1017 Basin Wrench.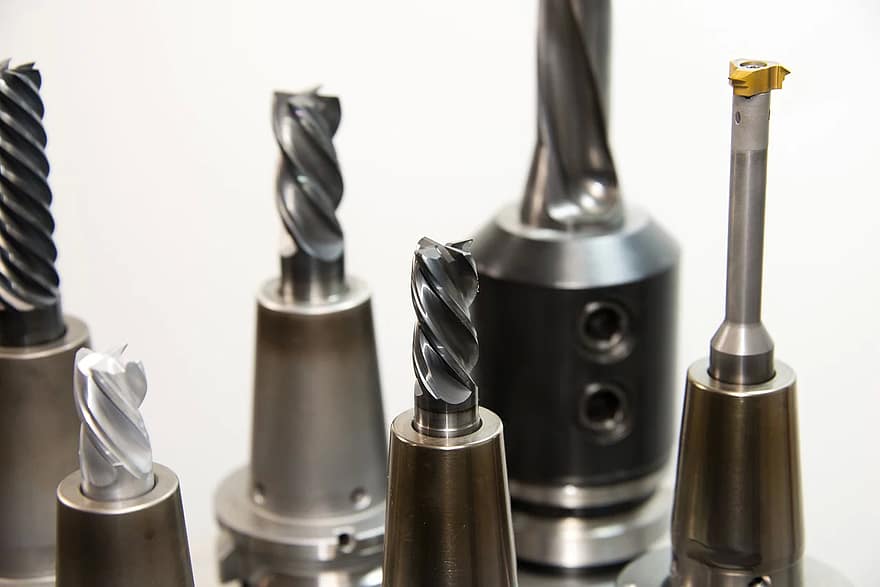 3. Drilling & Cutting Tools
In this section, we'll cover plumbing items you will need to drill holes and cut pipes.
Despite the name, today, drill machines are more than just drilling equipment. They have become multi-functional and omnipresent. It's impossible to imagine a modern remodel project without a drill machine or two. With a drill machine, you can drill a hole (obviously) in wood or metal. And also, you can use your drill machine to mount screws. So you have two tools in one design.
A high-quality and powerful drill machine is a great investment, even if you're not planning to use it all the time. But every now and then, you may need to do some minor work around your house: hang a picture, or mount a new TV onto the wall, or install a kitchen sink.
One of the best drill machines choices is a Hex Impact Driver by Bosch. Bosch is among the world's leaders of tool producers, so it is only logical that one of their products would appear on our list. The Hex Impact Driver is a compact but very powerful tool having a torque of nearly 1,000 lbs. With a weight of only a couple of pounds, this is a killer tool.
As good as a drill machine can get, there are certain things it is not capable of. For instance, you can't drill a concrete wall with a drill machine. For such a task, you will need something more powerful. Something like a rotary hammer. A rotary hammer is a tool that combines both drilling and hammering functions. Such a tool is not only perfect for drilling into concrete walls, masonry, or steel. With a rotary hammer, you can also remove unwanted screws. Most rotary hammers come with cords, but there are portable models like a Hilti Cordless Rotary Hammer.
Plumbing is not always about mounting screws, drilling, or cleaning clogs. Sometimes you need to cut something. If you don't like wasting time and energy, then a reciprocating saw is what you need. This is a killer saw that will let you cut steel pipes in no time and with next to no effort at all. A must-have for a professional plumber. In terms of product choice, we could advise you to take a look at Sawzall – an M18 Fuel's reciprocating saw. Just like the aforementioned rotary hammer by Hilti, the M18 Fuel's Sawzall is also a cordless device.
For smaller cutting tasks, you might need a simple hacksaw. A plumbing hacksaw will let you slice through pipes (both plastic and steel), nuts, and screws.
There are basically two types of pipe cutters in professional plumbing. In this article, these types will be represented by two products of the RIDGID company:
32975 Model 103 Close Quarters Tubing Cutter
23488 Model PC-1250 Single Stroke Plastic Pipe and Tubing Cutter
The difference between the two is that the first type is for both plastic and metallic tube cutting. The second model is used only to cut plastic pipes.
4. Drain Cleaning Machines
Drain cleaning machines (snake machines) are devices that plumbers use for handling drain clogging issues of various difficulties. Among the most popular models in this product category are Vevor 50FTx1 Drain Cleaning Machine and M18 Fuel's Drain Snake Kit. Both are great for the value and deliver high-quality drain cleaning.
5. Hi-Tech Stuff
The following tools that we ironically called "hi-tech" are the tools that are most common for professional use and less likely will be necessary for a household.
A cross-line laser measuring equipment tool is a professional device used to make precise measuring of the leveling. One of the best laser leveling tools on the market in 2021 is Bosch's GCL 2-160.
In plumbing, quite often, you need to make a previous visual inspection before getting down to work. And sometimes, due to the plumbing system specifics, you are not able to reach certain areas that remain hidden. This is when an inspection camera comes into play. For instance, the Rocam inspection camera by Rothenberger. With such a camera, you are able to peek into the pipes of 40 to 300 mm in diameter, as well as many other "unreachable" areas around your house. The Rocam inspection camera is a must-have for any plumbing expert.
Why would a plumber need something like a metal detector? Well, for a bunch of reasons. A metal detector will let an experienced plumber find metal objects such as pipes, well casings, valve boxes, etc. Knowing where exactly the pipework is laid in the soil around the house will make a plumber's job much easier.
6. Misc Tools
Finally, there are some more plumbing tools worth mentioning:
Pipe handle – a set of straps to handle wider diameter pipes for better fixation while working. Product example: strap lock pipe handle by Ridgid.
Press tool – this is a tool that lets you press pipe fittings. Product example: a 20V MAX press tool by DeWalt.
Soldering torch – a tool used for copper pipes sealing.
Hydro-jetting machine – a powerful device used to clean drain clogging.
Conclusion
Plumbing is a vast part of construction and remodeling. It utilizes a lot of various tools – from the basic ones like wrenches and piers to more elaborate items like laser leveling devices, drains inspection cameras, and even metal detectors. Of course, you don't have to invest in all of those tools if you're not a professional plumber. But as far as home DIY plumbing goes, our advice is to take a close look at the list of tools above and choose the items that must be in every household so you could perform minor plumbing tasks without the need to call for professional help.