Gas lines are often subject to extreme temperatures, pressure, and corrosive chemicals. 5 Star Plumbing provides all types of gas line services for homeowners in Sacramento, CA.
Whether you need gas line repair services for an existing pipeline or need it installed in a new home, you will need the assistance of a certified and professional plumber. If you decide to fix the gas line in the kitchen on your own, you can put your life and the lives of your family members at risk. Working with gas lines can be extremely dangerous and should be avoided.
That is why it's a good idea to opt for proven, reliable plumbing services if you want to get rid of your gas line problem. It does not matter if you need a simple repair of your fireplace or smell propane we are ready to help you every day. We offer affordable prices and work with different projects, no matter if you have a flexible or copper-made pipe. 5 Star Plumbing is a leading Sacramento gas line repair and service provider, as well as a full-service plumbing company.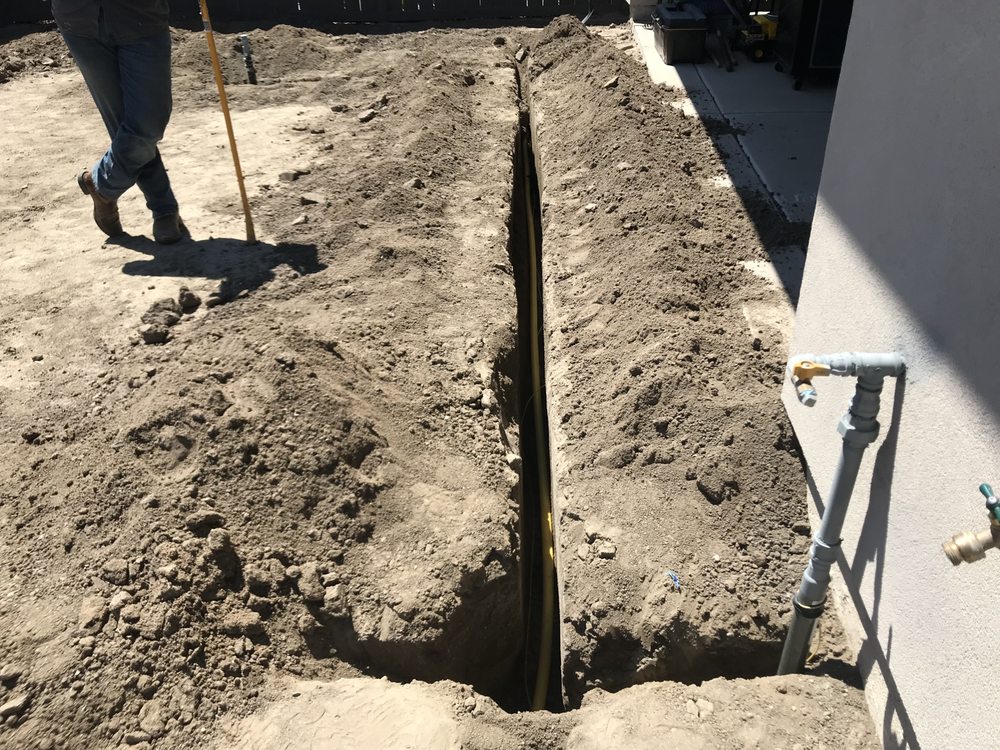 What Are Some Common Signs You need a Gas Leak Repair in Sacramento?
Gas leak is a serious problem that can lead to catastrophic consequences if not dealt with swiftly and efficiently. If you notice any of the following signs, there is a chance that you have a gas leak in your home:
Your water heater is blowing out black smoke
You smell an unpleasant odor in your home, or in other words – you smell gas
You notice a wet spot near the meter or at the base of your house
You notice bubbles coming out of the ground or water near your house.
5 Star Plumbing provides expert services from gas leak detection to installation of new gas lines in the Sacramento area.
Gas Line Repair in Sacramento, CA
Gas leaks are dangerous and costly to repair. That's why it's important to call a professional plumber in Sacramento – if you need help with your gas leak detection, gas line repair, or replacement, 5 Star Plumbing has you covered. If you need help with water heaters, natural gas, or propane gas, we'll send someone over to your home who is fully licensed to provide a safe solution for a gas leak repair in Sacramento.
We use advanced equipment and techniques to detect and eliminate the slightest problems with your gas line. We have a considerable track record of repairing damaged gas lines all around Sacramento. We offer flexible scheduling and competitive rates so call us today!
What Are the Most Common Gas Lines Problems?
A leak in your home's pipes can lead to significant damage and costly repairs if not addressed promptly. A trained technician should be able to find and repair leaks in pipes leading into or out of your home within minutes. Sacramento gas leaks are a serious concern and can create a dangerous environment. If you suspect that you have a gas leak, it is important to get it repaired as soon as possible.
There are many types of gas line leaks that can occur, but they all have one thing in common – they need to be repaired immediately.
The most common gas piping problems include:
Leaks in the piping system
Corrosion
Cracks in the pipes
Misaligned plumbing joints
Dying plants
Pilot lights going out
Lost hot water
Gas Line Installation in Sacramento, CA
If you need a professional plumber to install a new gas line, then look no further than 5 Star Plumbing. We have been serving Sacramento and surrounding areas for over 10 years, and they know what it takes to install a gas line.
A gas line installation is an important part of home maintenance. It is also one of the most dangerous jobs for plumbers to do. For our work to be successful, you need a professional who knows what they're doing. That is why we offer free estimates and will work with you on your budget so that you can get the best plumbing services possible.
Gas Line Replacement
Gas line replacement is a project that needs to be completed by a professional.
The project of replacing a gas line is something that should be done by professionals. You cannot just go to the store and buy the materials for it. Many different steps need to be taken before you can do the replacement.
5 Star Plumbing is the best for any kind of gas line services you may have. We are licensed and insured, so you know we will complete the job!
Gas Line Sizing 
There are many reasons to order gas line sizing services in Sacramento, CA. The most common is to replace an old gas line with a new one. Some people might need to change the size of their gas line due to an increase in the number of appliances using natural gas. The pipe size will need to be large enough for the gas to flow without restrictions. It is important to have a professional at 5 Star Plumbing do the job so that they can make sure that everything is installed correctly and safely.
The first thing you need to know when it comes to sizing your gas line is whether you're installing a new one or replacing an old one. If you are installing a new gas line, you will not need to size because you will be able to use the size of your current pipe and the length of your house's exterior wall. This is a one-size-fits-all approach, which means that you can use this method if your house is a standard size. If you are replacing an old pipe and using an entirely new line, then you will need to know the diameter of the pipe that is being replaced so that you can purchase the new tubing.