If you have a clog or you suspect sewer line damage, use a camera to help identify the cause of the problem and its location. Using a camera is an easy way to determine where the problem is occurring in your plumbing system and where it needs to be fixed. If you need a professional to solve any plumbing problems, we're here for you. We'll be there quickly to find the solution that'll make your life easier – whether it's with septic pipe cleanings or other repairs.
5 Star Plumbing is a company that can help you with any problem related to your plumbing system. Whether it's the drain in your home, sewer line, or private lines, they'll be able to diagnose and fix the issue
Pipe and sewer lines can hide plenty of things from us. For this reason, it is often extremely hard to enable efficient troubleshooting. A waterproof sewer inspection camera is a good solution to this problem. It can get to the places that are hard to reach. Moreover, it lets our customers see what they are paying for and what problems we are going to solve.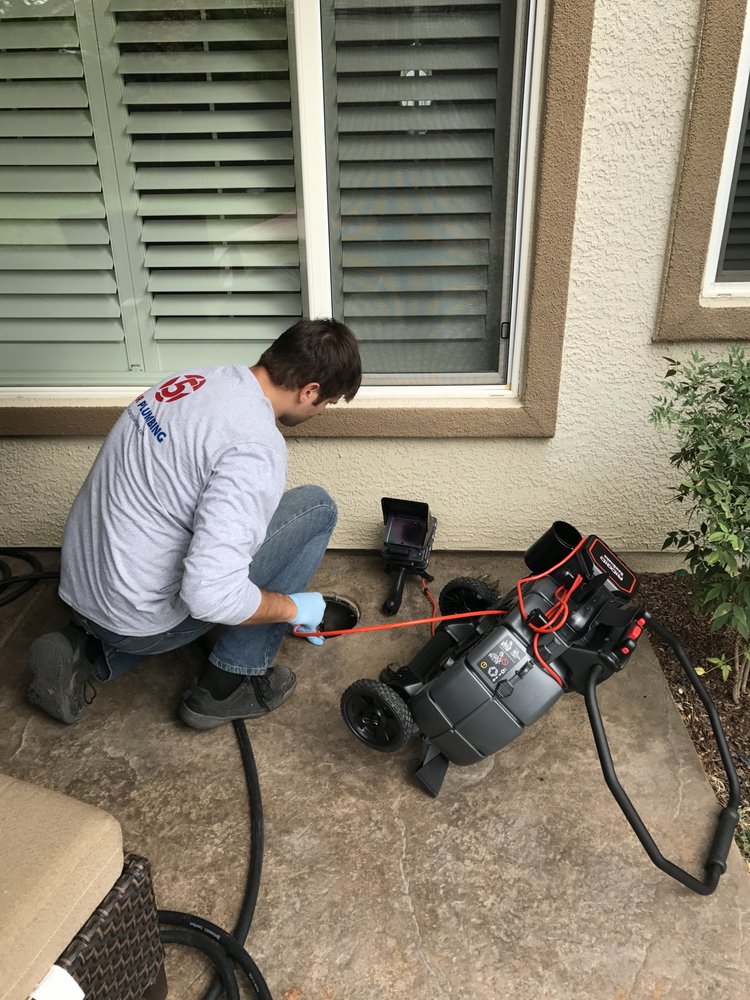 What is a sewer video inspection?
A sewer scope inspection service is a process of attaching a small, high-resolution video camera down the length of a pipe to get the most accurate pictures of what's going on inside. With high-definition video systems, plumbers can easily record the work they've been doing so they know everything that has been done. Not only does this prevent mistakes in the future or damage, but it also makes it easier for them to complete their job.
Benefits of a sewer camera inspection
Speed – it takes less time to detect the problem and eliminate every pitfall or malfunction in your sewer or pipe line;
Accuracy – the diagnosis is always right;
Safety – we never use any equipment to cut into your walls. Inspection cameras do not call for any additional holes in your house. At the same time, it lets us come up with more efficient indoor plumbing;
Prevention – prevention is the only way for householders to reduce their repair costs. The sooner you will find the problem the more efficient troubleshooting will be. The camera lets us diagnose the issue before the situation gets out of control;
Saving – you will be amazed to know how much you overpay for water and electricity in case of the slightest plumbing problem. If you are tired of growing water bills and you want to cut down on your costs, camera inspection will be your first step to a happy and trouble-free life.
We use only the latest technologies to ensure 100% stable water pressure, temperature and other parameters of your water line. Inspection cameras let us show the customers real situation inside their pipes and have an actual value for their conditions and proper operation. 
What does a sewer scope show?
A video line inspection allows you to identify any issues within the sewer system quickly: blocks, cracks, and bad joints can be easily pinpointed without digging. It's important to understand the potential issues and investments that this shift may bring in the future. One of the advantages of performing sewer line inspections is that you can easily detect when these issues are developing before the cost to fix them becomes too high. It is more thorough compared to other methods and provides a cost-effective solution for finding problems in more quickly.
For example, video cameras can find the exact causes of sewer line damage, including:
-Root infiltration
-Pipe cracking
-Offset joint pipes
-Corruption
-Corrosion
-Flawed installation
-Blockages
Preventative maintenance methods, such as sewer pipe inspections, can go a long way to catching potential water issues before they become serious problems.
How 5 Star Plumbing can help you with sewer inspections
The 5 Star Plumbing company is proud to offer sewer camera inspection services in Sacramento, CA. We understand that you might be hesitant to call a plumber, so we've designed this service to help you avoid plumbing disasters in your home. Our sewer line inspection service is designed with homeowners in mind, so we're not just helping you avoid plumbing problems, we're also helping you to save money by providing in-time service.
We are looking forward to hearing from you, so please call or email us with any questions or concerns that you may have about your sewer system.
Why you might need a sewer line video inspection
You might need a sewer line video inspection in the future to find out what is causing your sewer lines to clog.
The good news is that you can use a video inspection to determine the cause of the blockage. The bad news is that you will have to hire a professional who has experience with inspecting sewer lines.
A sewer camera inspection is a process that involves using high-resolution cameras and other equipment to inspect a sewer line for problems. It's important because it can help you identify where any blockages are, as well as what might be causing them.
Why you should hire a video sewer inspection company in Sacramento:
– The tree roots are growing into the sewer and causing damage
– Identifying what's going on in their home's plumbing
– You have noticed something strange in the toilet bowl
– You have noticed water seeping from your basement walls
– Looking into potential problems like water infiltration and pipe corrosion;
– Checking for leaks due to freeze/thaw cycles;
– Checking for cracks in the pipe;
– Checking for clogs in the pipe;
– Inspecting your main sewer line before digging up your yard or installing new fixtures;
– Inspecting sewer lines during construction projects
Delaying sewer line inspections poses some risks
Performing more frequent video inspections can help avoid problems with the potential to get worse. Delaying these sewer inspections can be dangerous.
Heavy Financial Burden You can quickly look for possible sewer disasters before they happen with sewer inspections. Pipes may be damaged without you knowing it and cause major problems later on. Get those repairs done today!
Potential Health Risks Waiting could lead to serious health risks that are not worth dealing with. It can be hard to tell when the sewer pipes around your house will break.
Severe Repairs Minor cracks or clogs in your pipes can turn into collapsed pipes and major backups if you delay repairs. Make sure that you call an expert as soon as possible. By having regular sewer inspections, you can prevent future issues before they occur and enjoy the best preventive maintenance.
What do sewer line inspection services consist of?
Sewer lines are the main source of water and waste in most homes and businesses. Sometimes, the lines might become clogged or broken and need to be taken care of by a professional.
Several steps will be taken to inspect your sewer line:
Entry Most businesses and homes have a cleanout port, which is usually an entry point for accessing the sewer line. You'll need to call in a professional to do any necessary repairs. For properties that don't have built-in insertion points, one will need to create an access point. This could be through digging a small hole or working on the pipe.
Insertion The second step of the process is to insert the camera into an open pipe, which needs to be viewable by a technician on a monitor/CCTV.
Examination The CCTV operators can watch everything in real-time because the wastewater is being piped through this facility. This allows them to see if your plumbing is broken, has slipped, or is obstructed by lumps of hair, grease, or tree roots. The video is reviewed by a professional to look for potential sewage line issues.
Evaluation After the cameras have inspected the passage, they will provide suggestions for what you should do next. The inspection usually lasts just a few minutes, so you can get an answer quickly without having to worry about missing out on the opportunity.
Call us to get a video sewer line inspection and prevent future problems!
5 Star Plumbing company provides high-quality sewer line camera inspection services in Sacramento, CA. We have the knowledge and experience to help you out with any problems that might arise during your sewer inspection. Our team of experts is trained in many different fields and can offer a variety of services that are tailored to the needs of residential customers.
We also provide free estimates for any service that you need to be performed by our team of experts.