Plumbers often have to solve a fairly wide range of issues, and there are different solutions and tools for different problems. You can easily get lost in the variety of plumbing tools or buy a lot of unnecessary things.
There is a great variety of plumbing equipment, and you can spend a fortune on it. How can you buy it wisely, not take too much, but at the same time not forget to buy something important for your plumber's suitcase?
We have come to rescue you and have compiled a list of 25 essential tools for every Sacramento plumber. To compile the list, we talked with different specialists and the best plumbers about what tasks they need to solve, which tools are safer, which helps better in a given situation.
Our list can be used as a checklist if you are thinking about your plumbing business or want to complete your home tool kit.
But the equipment is not all that a modern specialist needs. If you want to be successful, you also need to solve business problems in order to advance your career or start your own business. In our article, we will consider this aspect of the work of a plumber.
MODERN PLUMBING TOOLS
Let's consider the categories of new modern plumbing tools. They use new technologies and knowledge for their principles of work. These tools are safer and more productive.
A modern tool uses high-pressure water to clean pipes from clogging with grease and soap.
Plumbers augers and snakes
This is the most common plumbing tool that you can see in the arsenal of all plumbers. Without this tool, life would be much more difficult. Plumbers use them to destroy complex fences in pipes or sewers.
Plumbers use this tool to detect metal objects.
These burners use safer gas for their work, such as MAPP gas. Plumbers use this tool to create watertight pipe connections.
Plumbers use PEX tools to replace PVC and copper pipes. This material is flexible. It provides higher water pressure and simplified installation. A nice bonus is that this material does not rust.
This tool makes the plumber's job much easier when they need to inspect the drainage and drainage systems. This little tool becomes the eyes of a plumber and delivers high definition video. The battery of this device lasts for a long time, and the moving head of the camera allows you to see everything you need.
Flex shaft drain cleaning machines
Plumbers need this tool to clean pipes. Cleaning takes place by means of a machine of chain hammers, which are attached to a flexible cable. This invention pushed the world of plumbing tools forward significantly.
Do not forget to always keep track of new trends and inventions in the world of plumbing fixtures. Yes, some tools were used by our grandfathers, and they are still relevant now. But there are also better tools on the market that can solve the problem faster, safer, and better.
CHECKLIST OF TOOLS
Let's move on to the list of equipment that, in our opinion, every self-respecting plumber should have. These tools will help every specialist in their work, make it fast and of high quality. The tools respond to quality and safety issues.
You can buy them in specialized stores or order online with delivery.
Put all your tools in a special box so that it is always convenient to take them with you and not lose anything.
1. Monoblock Tap Spanner Set
They fit all existing monoblock mounting bolts virtually. The set includes different wrenches and a rod for easy turning.
2. Cooper Tube Cutter
The tool is used to cut copper pipes. Modern cutters are compact and fit in toolboxes. Cutting a pipe with this object leaves less debris than a hacksaw and goes faster.
3. Monument Waste Cleaner
Use this tool when a bath or sink water is not going well. It is convenient to use it due to the handle.
4. PTFE Tape
This tape is even called plumbing tape, so much its use helps specialists in their work.
Plumbers use tape to stop leaks in pipes. It has a chemically inert composition, so the tape is safe.
5. Universal Drain Clearing Rod Set
An irreplaceable helper in sewage cleaning. Check that the set includes a double worm screw, drop scraper, rod plunger, and of course, the rods themselves.
6. Drill Snake
If it was not possible to remove the blockage with a special solvent, then the drill snake will come to the rescue. It can remove fences deep in pipes.
7. Water Pump Pliers
These pliers are ideal for use with water pumps due to their serrated angular design.
8. Replacement Radiator Bracket
You use this tool to replace damaged or worn out radiator brackets. Pay attention that the brackets are made of galvanized steel.
9. Pipe Sealing Cord
The advantage of this pipe sealant is that it works instantly.
10. Contact Air Duster
A very useful thing in the household and not only for plumbers. With a contact air dust collector, you can remove debris from hard-to-reach areas of plumbing equipment.
It is a non-flammable item.
11. Drain Auger
Another tool for removing blockages. It is typically 7.5 meters long, making it a great way to get rid of blockages in a pipe.
12. Air Testing U Gauge Kit
This plumbing kit is used to check the air in the manifolds. Includes aircheck gauge, tee piece, hand bellows pump, and U gauge.
13. Silicone Lubricant Grease
Plumbers use this agent extensively to lubricate various parts.
14. PVC Pipe Cement
Plumbers use this item to hermetically weld different parts of the pipe. It is a thixotropic chemical solvent that creates airtight joints when applied.
15. Abrasive Mini Strips
The advantage of these strips is that they can be used not only in dry conditions but also in wet ones, unlike sandpaper.
You can buy them in packs of 10, which will allow you to use them for a long time. Strips are made of durable material.
16. Super Fire Two Torch
You need a gas torch to solder the copper pipes together. This burner is made with a high-quality level and can ignite any gas, while it requires less gas than other burners.
17. Auto Blowlamp
These blowtorches are easy to use, and the flame is adjustable. This cartridge is compatible with butane and propane.
18. Adjustable Wrench Wide Jaw
A great device that adapts to different screw sizes. You don't need to have many different sized wrenches. You can only buy this one. The handle is made in such a way that when using force, the tool will also be comfortable to use.
19. Solder Capillary Lead-Free Wire and Solder Capillary Leaded Wire
The first tool can be used to repair the electronics, but you should always check that your tool is strong enough for brazing copper water pipes.
The second tool helps to seal the drinking water pipes. You need a leaded wire that will inseparably hold the two pipes together.
20. Plumber's Mait
You need a plumber's mait to ensure a waterproof fit and prevent leaks. It is necessary to pull out the tube in the form of a ring around the circumference of the valve attachment.
21. High-Pressure Propane Regulator
You need this tool to create different sized flames. It is convenient to use it with an adjustable pressure bar from 0 to 6. High-quality brass ensures long-term use of the tool.
22. Drain Rod Tools
They are needed to unblock drains and sewers. Look for a kit in a waterproof bag that will consist of 30 feet drain rods.
23. Standard U-Gauge Manometer
This item is used to measure gas in instruments.
24. Drain Test Plug
This is an excellent way to check drain holes, dry waste pressure. They are made of galvanized material, so they do not corrode.
25. Adjustable 2 Jaw Basin Wrench
Use this tool to remove nuts that are hard to reach, for example, under sinks. The tool has a more secure grip.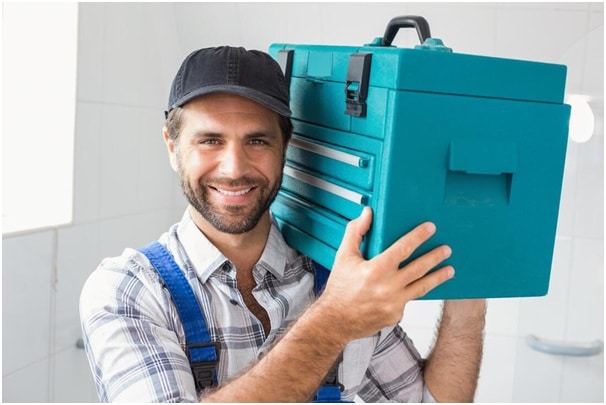 PLUMBER'S CASE
If you are starting out as a plumber and want to look presentable in a client's eyes, be sure to buy a plumbing bag. You should not expect that you can find the desired item in your car trunk if they are lying there in a mess. The tool bag and its convenient storage system are almost as important as the tools themselves.
If you have everything you need in one bag, you can always quickly go to a client's call, which increases confidence in you.
Stored properly, your tools will last longer, and you will not have to spend money buying new ones.
You do not have to experience the stress that you cannot find the item you want; everything is always in your bag.
The bag should be comfortable for you and use a clear storage system. Before buying, be sure to touch it, open it, and look into all compartments, pockets.
With the right choice of a plumbing bag, it will become an indispensable assistant for you.
Pay attention to durability and water-resistance as well. Often the working conditions are difficult, so you do not have to worry about the safety of your tools.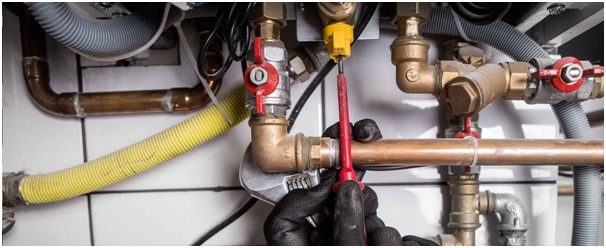 BUSINESS TOOLS
In addition to the obvious that a plumber needs working tools, the modern professional also needs business tools to organize and manage work processes.
It is important to effectively build the system of your business, to establish the process of referrals from clients, contractual relations, scheduling, workflow, monetary relations.
Let's consider what business tools can help you build an effective working model.
Review Automation Software
Almost all people read reviews before buying some kind of equipment or even going to a restaurant. Reviews show us what experience people had with this enterprise, whether they were happy or not.
Reviews can either help if they are great or ruin your business. But it is a great business engine tool. Even if you get negative feedback, it is important to work with it, respond to it, and solve the problem. And positive reviews will quickly move you to the top.
In the age of fast payments, you need a reliable payment system that will inspire confidence in both you and the client. Such a system will allow you to facilitate monetary transactions, quickly conduct them, and receive accounting documents.
Field Service Management Software
It is the perfect and most complete tool for running your business. It can help with tasks such as maintaining a calendar, scheduling appointments, invoicing, pricing, saving photos, noting vacancies, accepting payments, communicating with a client, automating e-mail corresponding, creating and adjusting budgets. It is the most convenient tool for doing business from anywhere using your laptop, smartphone, or tablet.
Real professionals have not written anything on paper for a long time but use modern services to organize their work. This will help make your business more productive and efficient. All information will be available to you by pressing a button.
It is important that this system is linked to the program responsible for organizing and recording field services. This program keeps accounting documents. It counts expenses, salaries, and other monetary relations.
CONCLUSION
As you can see in the modern world, it is not enough just to be a good master to be very successful and to be on top. A modern plumber must follow new trends, materials, inventions in the world of plumbing equipment.
Always choose the tools that are comfortable for you. You can come to the store, touch them, hold them in your hand. The plumber's working tools are an extension of himself. Choose a plumber's bag that will make it easier for you to find the right tool, and in which your tools will be stored safely, and then they will last you longer and better.
In addition, a modern specialist must use systems to optimize business processes, such as communication with a client, reporting, document management, work with customer reviews and requests, and much more. Thanks to such services, this part of the work takes less time.