In California, you cannot do without a car. Still, the locals love to walk, they just do it in unique natural places, and perhaps one of the most favorite activities of Californians is hiking. Some of the best hiking trails in the world are found in and around Sacramento.
Hiking paths are built in such a way that a traveler of any training can choose a trail for his level.
Especially for you, we have collected the best routes for hiking in Sacramento and the surrounding area within a couple of hours by car.
And if you still doubt whether you should go hiking, or do not know about the healing properties of hiking for your body and brain, then we will tell you about this.
1. DARRINGTON TRAIL
This path will appeal not only to hikers but also mountain bikers and requires preparation. The trail has steep cliff edges, especially at the beginning of the path.
The trail stretches for 8.5 miles, runs through rolling hills, and climbs just under 800 feet all the way.
The hiking trail passes through the Folsom Lake State Recreation Area and can be reached in about 45 minutes.
This area is a great place for wildlife lovers. You will be amazed by the grandiose ancient blue oak trees. Their age reaches 500 years. You can also meet a variety of animals and birds. In this area, gray foxes, black-tailed deer, coyotes, raccoons are found. Many bird species can be seen here in any season. Gulls and waterfowl, great egrets, great blue herons, double-crested cormorants fly to spend winter here.
If you are going to take this path in the summer, be sure to bring some drinking water with you, as it is very hot in the summer.
On the way, you can admire breathtaking views of the American River Valley.
2. THE QUARRY TRAIL
This route is pretty easy and perfect even for small children and families with strollers. In addition, it is also informative, and once there were caves for limestone mining. Now they are not used, but tourists can look into them or follow the route along which the minerals were transported.
This hiking path is just a 30-minute drive from the state capital, and you can park in a paid parking lot for $ 10.
3. WESTERN STATES TRAIL
This unique historical trail is now hosting one of the most difficult ultramarathons in the world. Earlier, this path was used by gold miners, setting off from Nevada to California. Even earlier, this path was passed by the indigenous peoples of the region.
The route leads through the Sierra Nevada Mountains from Salt Lake City to Sacramento.
If you suddenly decide to run an ultramarathon, then you need to prepare very hard because the total length of the Western States Endurance Run is 100 miles and includes elevation changes of more than 40,000 feet. Such a challenge will not be within the power of everyone, but if you set a goal, then anything is possible.
But if you are not a runner or an athlete, you will still find the trail to your taste, as it passes through scenic spots.
4. SOUTH FORK AMERICAN RIVER TRAIL
Nature lovers will love this direction because the routes pass through the canyons, hills, mesmerizing forests, and rivers. Along the way, you can get acquainted with a fifth part of the flora of the state of California.
The routes are laid this way to not to interfere or harm the plants, but at the same time remain comfortable for tourists.
This route stretches 25 miles from Coloma to Sacramento and includes trails for all training levels.
5. RIVER WALK TRAIL, COSUMNES RIVER PRESERVE
The trail will appeal to animal, bird, and nature lovers. The hiking path runs through the Cosumnes River Preserve, home to over 250 species of birds and wildlife.
The trail is quite easy, making it a great place to go with children who will enjoy watching wild animals and birds as they walk the elevated dams and coastal environment.
The route is 3.5 miles long, and the distance from Sacramento is only 30 miles.
6. AUBURN STATE RECREATIONAL AREA
This trail is accessible to hikers all year round, but it requires at least minimal training because it has quite steep trails and climbs.
But the spectacular views of the Auburn State Recreational Area where the trail runs are well worth it. The trail runs past the Auburn Dam and American River and has breathtaking views of the California wildlife.
7. BLUE HERON TRAIL
Hiking trail suitable for travelers with wheelchairs or strollers. Its length is only 1 mile, so you will not have time to get tired, but you will be able to enjoy the views of nature and see the migration site of such birds like cranes, hawks, shorebirds.
The trail passes through the wetlands of Elk Grave, which have received protected area status.
The trail appeared not so long ago and will be interesting for both children and adults.
8. JEDEDIAH SMITH MEMORIAL TRAIL
The route contains several trails for hikers with different levels of training, there is a trail for those who decided to go hiking for the first time, but it will also be interesting for those who have already worn out more than one hiking boots.
The trail runs 32 miles through several picturesque parks and the American River Parkway.
This hiking trail is one of the most favorite among tourists for the stunning views that can be seen while walking along it.
9. CRONAN RANCH REGIONAL TRAILS PARK
The total trail length of this route is more than 12 miles and can be reached from Sacramento in one hour by car.
The trails run through breathtaking woodland and along the South Fork of the American River.
Different trails can be chosen depending on the weather and season. There is an opportunity to walk along a forest road and a hilly area illuminated by the sun.
For those looking to enjoy the breathtaking views of the Sierra Nevada mountains, the route east of Cronan Ranch is best. This trail is one mile long, but you will get more impressions.
10. SACRAMENTO RECREATIONAL RIVER, CALIFORNIA
The Sacramento River is a pleasant place and is one of the most favorite areas for locals. It is especially pleasant to take a picnic basket and go to one of the pleasant places that you will come across on this hiking trail. On the way, you will enjoy the singing of birds, views of proud deer, if you are lucky you will be able to see bald eagles.
The Sacramento River is a great choice for a romantic lunch or family walk.
11. INDEPENDENCE TRAIL IN SOUTH YUBA RIVER STATE PARK
The trail is notable for the fact that it is located in historical places of gold and minerals mining. This is the first trail in which they came up with the use of wooden flumes, which were left from gold miners for the movement of people in wheelchairs.
It is wonderful that such an invention has found a second life and made the wilderness trail accessible to everyone, and people can enjoy stunning views of the canyon.
Much of the park and the trail itself are about 1.5 hours north of Sacramento.
12. RUBICON TRAIL
This stunning trail is located near Lake Tahoe. Yes, it will take you two hours to get here, but trust us, it is worth it, and you will not be disappointed.
If you get tired after moving and do not want to drive back home the same day, you can stay at a lakeside campsite or resort.
The Rubicon Trail is the first to go as it connects two parks — D.L. Bliss State Park and Emerald Bay State Park. The trail is 4 miles long, but if you choose to stay longer, there are other hiking trails that you can take.
The path passes at a low altitude, and the views are worthy of postcards to relatives, or at least your Instagram.
13. MOUNT DIABLO SUMMIT
How about a trip to San Francisco? More precisely, in its surroundings in Mount Diablo State Park, because it is here that this exciting hiking trail is located. It will take you two hours to get from Sacramento.
There are several options for hiking to the top of Mount Diablo.
If your preparation is not impressive, then you can take your private car to the Summit Visitor Center. From there, it will take you only one mile on the Mary Bowerman Interpretive Trail to reach the top.
If you are confident in your abilities, then feel free to go the longer route, which stretches for 8 miles long. On the way, you will encounter various landscapes and breathtaking views. To reach the top, you will follow the fire roads and the Eagle Peak Trail. Height is over 3,000 feet. You need to be prepared.
Mount Diablo is a sacred site for many of America's Native tribes. According to mythology, here was the point of creation of the whole world and Native American people.
14. GOLD DISCOVERY LOOP
This trail runs in Marshall Gold Discovery State Historic Park, just 45 miles from Sacramento.
The place carries a historical value for the United States because it was here in 1848 that James Marshall laid the foundation for the Gold Rush, finding gold here. This event gave rise to a special period in the life of the state and influenced all spheres of people's lives from culture to politics.
The trail is suitable for travelers with children. It will be interesting for both adults and kids.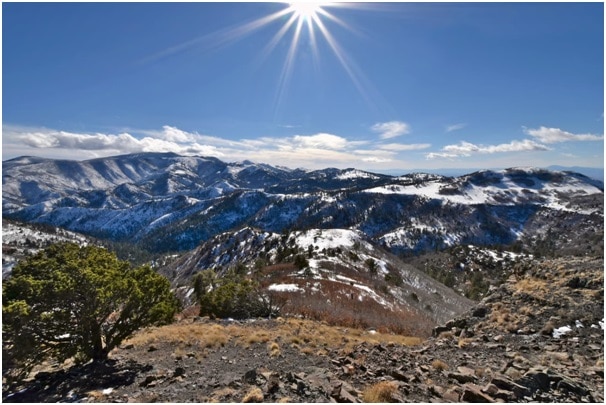 TO SUM UP
If you are interested in all these stunning trails but for some reason still hesitate to hit the road, we will tell you why hiking is one of the best activities and why it is gaining more popularity.
BENEFITS FOR THE BODY
Ask any trainer or nutritionist, and they will tell you that hiking is a great workout for your body. This cardio workout is many times better than running on asphalt or in a stifling gym.
First, you improve your blood pressure, which is very important for avoiding heart disease.
Second, it is much more beneficial for your joints and tendons to walk on soft trails than on asphalt or a treadmill. Walking on natural trails is more beneficial for your knees, ankles, and thighs.
Thirdly, you are spending a lot more calories on hiking trails. Often trails pass over uneven terrain, forcing your body to engage various muscle groups, somewhere you have to move at an extreme angle, somewhere to go downhill, all this develops your body.
The dynamic movement causes your metabolism to increase and burn calories faster.
Reducing cholesterol will be a pleasant bonus, which also helps the body to be in shape.
Another study found that walking long distances can improve blood antioxidant levels. And this can be used in the treatment of cancer. Of course, a simple walk cannot cure this disease by itself. But in combination with other methods, it can prevent the onset or recurrence of the disease.
BENEFITS FOR THE BRAIN
According to research by scientists, being in nature has a beneficial effect on the human brain. When hiking in nature, your brain releases brain-derived neurotrophic factors, which affects the increase of new brain neurons.
It will be especially useful if, during hiking, you refuse to use your phone. Yes, of course, you can take a photo for memory, capture stunning views, and unusual terrain. But refuse to check social networks, calls, messages during the hike. This will help your brain focus on the present and enjoy nature.
It has been proven that being outdoors (not in a park in the city, but in the wild) increases a person's creativity and concentration. Your brain relaxes as you gaze at natural landscapes and listen to birdsong, rather than the hum of cars and the city. It is nice that this effect persists for some time after returning from hiking trails.
Put on your hiking shoes, take your friends, and go explore new routes.