Sacramento Downtown is usually pretty crowded at any time of the day. The streets are filled with extraordinary people and curious events, and if you are looking for a good time, you should definitely visit the central part of Sacramento. Here you will find a various number of activities with good food, drinks, nice music, and dancing. To find the Nightlife Spot suits you best, check the list below where we've gathered the most interesting bars, pubs, clubs, and restaurants of Sacramento Downtown.
1. OSHIMA SUSHI FUGU LOUNGE, RESTAURANT
If the night is special for you and you are looking for a nice calm place to try your chances with Asian food, you might want to visit Oshima Sushi. This place is famous for its aesthetic lounge with a big private zone that you can rent for your events: it doesn't matter if you have a birthday party, business meeting or you want to watch a sports game with your friends you will have a nice and roomy hideaway. For more than 15 years, the Sushi Fugu Lounge gives you a decent menu with Japanese kitchen dishes, special sushi sets, and numerous other options with drinks and snacks.
2. UNIVERSITY OF BEER, BEER BAR
The first University of Beer of this glorious network was originally opened in Davis, California, in 2012. This beer bar network supports local enthusiasts that make their own unique sorts of beer nearby. Every bar has its own great collection of beers from neighbor brewers, and you almost don't have a chance not to try a new sort of beer any time you're in.
3. THE STREETS, AMERICAN BAR
This bar with a truly American entourage was also known as "The Streets Of London" for serving traditional British drinks. Here you can find almost every kind of sports event to follow on-screen: all of the traditional American-favourites and even soccer due to the bar's British traditions. Also, this is the first spot on our list that provides incredible live shows, including open mics, live music, and karaoke nights. The local public loves this place for its great choice of drinks and a well-stocked menu.
4. DIVE BAR
To find The Dive Bar, you should go to the midtown of Sacramento. This is a wonderful and truly authentic place and the only place in our article that is connected to the underwater theme. The uniqueness of this place is provided by the Mermaid Shows performed in a huge forty-foot swimming aquarium constantly. Join the underwater actors in the ocean fantasy of their famous tank light show while the bartender mixes your drink. There's always something new to the cocktail menu and list of monthly specials in this place, and as we mentioned before, there's a lot of great entertainment too.
5. FOX & GOOSE PUBLIC HOUSE, BAR WITH MANY OPTIONS
The Public House is mostly known in the city of Sacramento for its traditional English cuisine with modern vegetarian positions, and once it even got a prize for the "Best Breakfast" nomination. Also, there a lot to look for in the bar of Fox & Goose: the place is always full of people because of its huge collection of drafted beers. If you plan a girls' night out, you should consider looking closer for Public House's liquor menu and wine chart.
6. BLUE CUE, AMERICAN RESTAURANT
Blue Cue is a restaurant that is pretty for its billiard-club zone with a bar. It is a classy place for people who like to spend time around the pool table and know few things about good brews and fine scotch. Blue Clue also provides Valet Parking for their guest, and it is pretty suitable for family trips or if you may want to leave your car and take few extra drinks.
7. MIDTOWN SPIRITS, BAR
If you're looking for a good piexce of local history, you should definitely visit Midtown Spirits. This bar has its own distillery, and this certain distillery was the first one to be opened in Sacramento since Prohibition. Now this place is a many times top-rated bar that provides almost every known kind of service known in the industry: there are takeout and delivery services and both indoors and outdoors sitting. The menu of Midtown Spirits is well known for unusual food and exceptional drinks.
8. COIN-OP GAME ROOM, GAME BAR
This one may become a lifesaver when you want to have a midnight snack. The Game Room located in Downtown Sacramento has an evening kitchen that is opened every day till 1 AM. But even if you are not into eating at night, you should consider visiting Coin-Op to play various arcade games while you wait for your drink. Cold beer, gambling, craft pizza, and Goliath Jenga are the other things we should mention talking about entertainment in this game bar.
9. ALLEY KATZ, PUB GRUB
This bar is widely known as "the best beer bar in Sacramento." It was set up in 2010, and since then, they offer their guest more than two hundred positions of beer, and eighty-six of them are draft. If you're up for classic bar entertainment, you'll find a couple of pool tables, dart sheets, sixteen TV screens, and air hockey that are free for all customers. Alley Katz is famous for fast-changing positions in beer carts. There's no guarantee that you'll find a beer that you had last night on the next day there.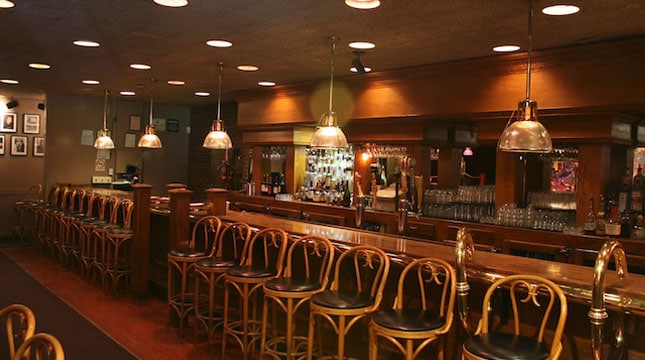 10. PUNCHLINE SACRAMENTO, BAR
Sacramento Punchline is the option for those who like stand-up comedy and beer at the same time. Along with comedian shows you can see some live music performances. Punchline has a great choice of drinks, but you should remember that there's a minimum of two drinks in one order, so you might want to have a company. The bar is located on the East side of Sacramento, and it is a great place to spend your night out.
11. BONN LAIR, BRITISH PUB
Bonn Lair is a great place to relieve stress from the hard day or week at work. This classic British pub resembles the modern, comfortable service with a slight touch of Sacramento's European spirit. The menu has a lot of snacks to try, but you should definitely check special dishes: Shepherd's pie and vegetarian sandwiches are a must-have in this establishment. There's also a huge amount of draft beer and packaged brewery positions in Bonn Lair's drinks cart.
12. HARLOW'S, AN AMERICAN BAR  
If you look for a musical place to spend your evening, you should visit Harlow's. This place is widely known among Sacramento natives for its live musical performances from the day it opened in 1982. You can enjoy a show of well-known artists and local musicians in such genres as soul, blues, and rock. Later that night, you can dance to the rhythms of live DJs and join the private outdoor party at the club's backyard. This is the place that holds the true spirit of the city and stays pretty accessible for newcomers.
13. THE PARK ULTRA LOUNGE, DANCING CLUB
The Park is a place for the ones who like to party hard. Thursday EDM parties in this club are famous throughout Sacramento for their eminent line-up of DJs and the perfect spot to rave. Also, if you visit Ultra Lounge, you'll find out that they got three restaurants in the club. On any other day of the week, you might find this place in a little less crazy state than it is on Thursdays, but the top-rated service, fine cuisine, and best music in Sac stay there all the time.
14. DARLING AVIARY, BURGER BAR
This is a burger restaurant located on a rooftop in the heart of Sacramento. If you are looking for a place to have a quiet dinner and chill-out room with light music – this is a place to go. Before you head there, you should know that the minimum order is ten dollars per person, and you don't pay that money for food and drinks. People, who visited Darling Aviary, say that it worth a view.
15. MIX DOWNTOWN, BAR
Mix Downtown is another rooftop bar in Sacramento situated on the top of the Firestone Building. This place is an ideal spot for mixed drinks parties, conferences, and big companies. This is a stylish bar with a well-designed interior made of raw components like concrete, rural wood, and crafted metal. Also, you'll find here extensive bars, fire pits, a dance floor, sofas, and semi-private rooms to make your relaxation more private.
16. BACK DOOR LOUNGE, PUB GRUB
This is the first retro-bar on our list made in the aesthetic of Las Vegas in the fifties. You can get your well-made drink in a luxurious interior with a dimmed lighting Frank Sinatra playing in the background. If you're up for a fifties lifestyle, you can spend a great night here with your buddies, sipping a glass of whiskey with great music.
17. DISTRICT 30, BAR
There's an essential rule to this one: you should consider the dress code of this club. You should not wear any kind of sportswear if you want to visit this place, including jerseys, athletic shoes, track jackets, and hats. This Boutique Lounge is a place for socially engaged people who want to find new relations. State of the Art Sound System makes you really listen to music because it sounds great. Each Friday, this nightclub becomes a house of low-beat music from  8 PM to 10 PM.
18. THE TORCH CLUB, BAR
If you ask any Sacramento citizen about the most popular live music venue in the town, you'll definitely get a word about the Torch Club. This bar became very popular among the national and local blues artists since the early 1950s. Even now, this is a rare place where you can hear live music on any day of the week, even twice a day. This is not a big and fancy bar, but it has a decent dancefloor, and you could really catch some vibes we all seem to miss that day. Unique music experience and good drinks for reasonable prices make The Torch Club one of the best places in Sacramento, but there's a little problem with parking in this area.
19. RUBICON BREWING COMPANY, PUB
This one is the last but not the least. Rubicon Brewery was opened in 1987, and since then, it became a beloved place for many people in Sacramento. Not only the incredibly delicious food and locally brewed lagers led this pub to mainstream success. This company provides a great number of magnanimous endeavors and locale outreach. To get the city of the spirit of Sacramento and take a good look at the life in the city from aside, you should go to Rubicon and check out their great menu.
20. Sacramento Plumbers
If you managed to get home from the Pub and found leaking pipe in your house, you should call 5 Star Plumbing team – expert Sacramento plumbers team.