In this guide, you will get all the necessary information about water heaters. Here is what we are going to cover below:
How do you know that it's time to replace your existing water heater?
What crucial features should you pay attention to when choosing a new water-heating appliance?
What are the five types of water heaters available today?
Where can you purchase a water heater?
We've broken down the topic into several parts to sort out the information in the most helpful way. Whether you're choosing your first water heater or thinking about replacing the existing one, this very detailed guide will answer all your questions!
PART ONE: WHEN IS IT TIME TO REPLACE A WATER HEATER?
There are four main reasons for replacing a water heater:
If it's leaking;
If it does not heat water like it used to;
If the warranty is out;
If it does not fit the updated building codes.
Let's take a deeper look at each case.
1. YOUR WATER HEATER IS LEAKING.
When your water heater starts to leak, you should call a plumber to inspect the issue and fix it if it's possible. Sometimes the leakage can be too bad, caused by damage beyond repair, 5 Star Plumbing company can help you our with plumbing service in Sacramento. In this case, your best option is to get a new water heater instead of trying to fix it to no avail.
2. YOUR WATER HEATER DOES NOT FUNCTION PROPERLY.
For a number of reasons, a water heater may stop functioning properly. It may stop heating water the way it used to, for instance. If that happens, you should call for a technician or request a guaranteed repair. If the problem can not be fixed, then it's time to look for a new water heater.
Or maybe your water heater is just not powerful enough to heat water for an increased number of people in the house. If this is your case, you will need to find a bigger tank for a storage tank model or get a more powerful tankless water heater.
3. THE WATER HEATER'S WARRANTY IS OUT.
When your water heater's warranty period expires, maybe it's time to look for an upgrade. Let's say you've been using a water heater with a 12-year warranty. After these twelve years, not only can you no longer count on a warranty fixing of your water heater, there are chances that the unit itself is reaching its lifespan limit. During the past twelve years, the water heater may well have become obsolete and is no longer meeting the modern-day energy-efficiency standards making you pay too much for electricity. If your water heater has served you that long, you know that it's time to look for a newer model.
4. YOUR WATER HEATER NO LONGER MEETS YOUR BUILDING CODES REQUIREMENTS
Sometimes that happens – building codes get updated, making your water heater unfit for use in your local area. Our recommendation is to stay up-to-date with the building codes of the community you live in.
PART TWO: THE BASIC FEATURES TO LOOK AT
When choosing a water heater, there are six basic parameters that make a difference.
1. CAPACITY
The amount of water your future water heater will heat and store is crucial and is in straight relation with the number of people living with you. If the tank of your water heater model is not large enough to serve the needs of all your family members during the day, it may suddenly run out of hot water while in use. Although, because each individual has their own way of using water, coming up with the proper tank size may be difficult.
But there is a way to solve the problem sort of mathematically. To do that, you will need to multiply the number of your family members (including yourself) by twelve. Thus you will get your family's First Hour Rating. For instance, four persons' FHR equals 48 gallons. Knowing your family's FHR, you will be able to choose the right tank size.
FHR-method also applies for tankless water heaters size options.
2. ANTI-SCALE SYSTEM
Minerals that tend to build up in plumbing systems may reduce appliances' lifespan. For that reason, manufacturers sometimes choose to equip water heaters with anti-scale systems. Such a device is placed at the bottom of a tank and moves to constantly disturb the water. When water is stagnant, mineral scales build up in larger amounts, so to prevent this, the water must be disturbed – so that's what an anti-scale system is for. However, this function may seem redundant since there is a number of other things that can reduce a water-heating unit's lifetime. So our recommendation is to go for a model with a long-term warranty.
3. WARRANTY
As a matter of fact, a longer-period warranty is something to look for in any costly appliance you're planning to buy. As sadly as it seems, things get broken from time to time. That is why it is so important to have a guaranteed opportunity to ask for a free-of-charge repair, replacement, or refund. Since a water heater is one of those units you are heavily dependent on in everyday life, your best bet is to find the best warranty option. The shortest warranty for a water heater is only two years. At the same time, the longest warranty offer is 12 years.
4. DIGITAL CONTROL PANEL
A digital control panel is a very convenient feature. Such a panel will let you monitor and regulate settings with ease. For instance, you can control the water output and temperature. Some more elaborate models even have a timer function that will let you set the hours for your water heater to operate or turn off should you be away for a couple of days or longer. If a water heater has no digital display, it's no big deal, really. After all, it will still do what it is made for – it will heat water. However, if you're looking for a modern-day solution, a water heater equipped with a digital control screen is your choice.
5. GLASS-LINING
When choosing between different storage tank water heaters, you may notice that some tanks come with a glass lining inside. This lining has the purpose of protecting the tank from corrosion. In reality, such coating is a great way of increasing a water heater's lifetime. Glass coating is becoming more common. Someday, it will most likely become a standard. While your water heater may well do without such a feature (with proper maintenance, of course), getting one with a glass-lined tank is still a good idea.
6. DRAIN VALVE MATERIAL
Located at the lower part of a tank, a drain valve lets you drain water from the tank before cleaning or moving it. There are two most common material options for drain valves: brass and plastic. Brass valves are more long-lasting than plastic ones and more temperature-resistant. However, it should be mentioned that neither brass nor plastic valves are prone to corrosion. While not the biggest of decisions to make, you may still have certain preferences about which material a drain valve should be.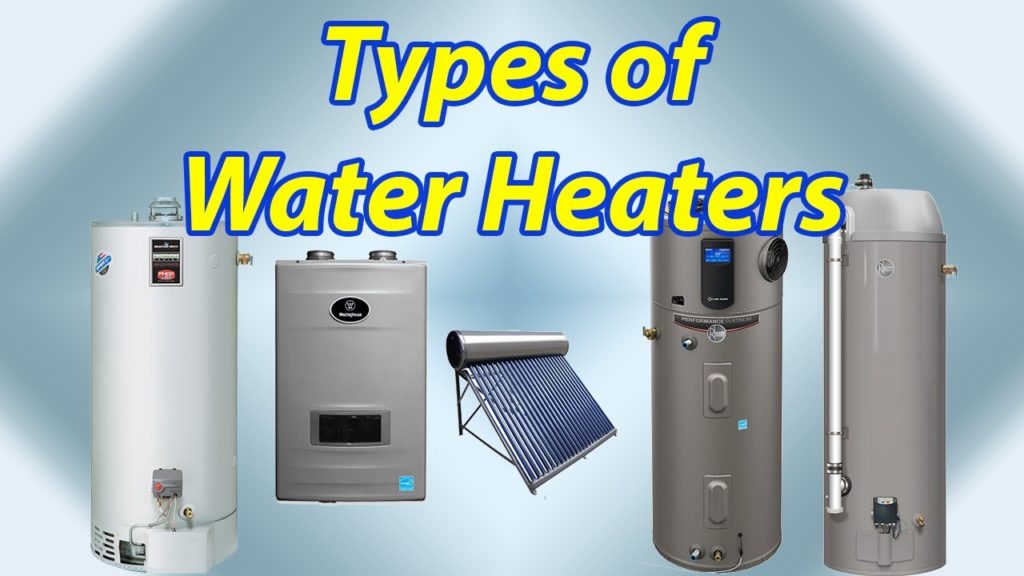 PART THREE: THE TYPES OF WATER HEATERS AND HOW THEY DIFFER
There are five different types of water heaters to choose from. They differ in installation, specs, size options, and prices, having their own strong and weak points. In this part of our guide, we will take you through all the five types of water heaters so you could decide which of them will meet your needs best.
1. WATER HEATER WITH A STORAGE TANK
Basic information
A storage-tank water heater is the most frequent choice among homeowners. The design includes a tank to boil and store water in. The bigger the tank, the more hot water you will have. So with a smaller tank, you might run out of hot water should you need more of it than is available. If this happens, you will have to wait until the tank will gather water and heat it. Water heater tanks are designed to keep the water hot at all times. There are usually two control valves for temperature and pressure regulation.
Maintenance tips
It is recommended to clean a tank once or twice a year. This is important because timely maintenance will increase a device's lifetime. Since the tank stores water all the time, mineral scales build up inside it. The high amount of these elements may lead to corrosion. To avoid that, you should clean the tank. However, you can do without such a procedure, and there are chances that your water heater will work just fine without regular cleaning. But you must remember that neglecting maintenance may shorten the unit's lifetime. On average, a properly maintained storage-tank water heater will serve for up to 12 years.
Pros & Cons
Pros:
This is the most affordable type;
Models of that type are easily installed.
Cons:
2. TANKLESS WATER HEATER
Basic information
Such water heaters don't utilize tanks in their design, hence the name "tankless." Another term is "on-demand-water-heaters." This means that you get to use hot water whenever you need it without having to worry about how much of it is left in the tank. To boil water, tankless heaters use super-heated coils.
When choosing a tankless water heater, you should take the size of your house into account. Since there are different models specifically designed to fit certain household sizes. If your tankless water turns out to be too small for your house, it will not fit your hot water usage. This will result in lukewarm or even cold water.
Usually, tankless water heaters are powered by natural gas systems. So the larger the water heater, the bigger your house's gas line should be. Choose to install an electrically-powered tankless water heater. You will have to take care of upgrading your home's electricity capacity, which will undoubtedly result in higher power consumption and higher electricity bills.
Maintenance tips
Despite having no storage-tank, on-demand water heaters are also prone to corrosion, so they too must be cleaned of mineral build-ups. Do the cleaning at least once a year. But be aware that cleaning a tankless water heater is more difficult since they have smaller parts that are difficult to access. Typically, an on-demand water heater will serve from 8 to 10 years.
Pros & Cons
Pros:
Models of this type are deemed to be quite economical – they don't have to use energy all the time to keep water hot;
Since there is no tank with limited capacity, you don't have to worry that you will ever run out of hot water when you least expect it.
Cons:
Such a unit may involve additional money investment to be installed;
It may require a more extended gas system or increased electrical power capacity, which will get costly.
3. CONDENSING WATER HEATER
Basic information
If you use natural gas as your primary energy source to power your house, consider installing a condensing water heater. It will heat water by using natural gas exhausts. The water is stored in a tank. At the bottom of it, there is a coil that receives heated gas fumes to boil the water. In terms of energy-efficiency, this is a very economical approach. Since this type utilizes a tank, make sure to choose the one that will be large enough for your needs.
Maintenance tips
Just as with all the previously mentioned tank types, you will need to take care of the water tank to preserve it from corrosion. Another thing to take care of is gas valves that will also require cleaning.
Pros & Cons
Pros:
The best choice for gas-powered houses;
Usually using large storage-tanks, these water heaters have enough water to go around for all the family members.
Cons:
Models of this type don't usually come in small sizes and will best suit the needs of the households that need over 50 gallons;
Not the best of choices for houses not powered by natural gas.
4. HYBRID WATER HEATER
Basic information
A hybrid (or heat pump) water heater is an alternative type of water heater with increased energy efficiency. Such a water heater heats water with the ground or air heat. With this approach, the use of electrical power drops down to almost 60%. When choosing a hybrid water heater, you will have to make sure you have enough room to install the device.
Maintenance tips
Just as with the storage-tank type, hybrid water heaters should be cleaned once or twice yearly to increase their lifetime.
Pros & Cons
Pros:
Hybrid water heaters are energy-efficient, which means they will let you save more money on power bills.
Cons:
Due to its design, a hybrid water heater will show low performance installed in cold locations like basements or when used in regions where cold weather lasts the most time of the year;
Hybrid water heaters are pricey.
5. SOLAR-POWER WATER HEATER
Basic information
This is the most eco-friendly and economical type. Such a heater will receive energy from a set of solar panels installed on the roof of a house and then, using a heat-conductive material, will heat water. This is a great option for those seeking a highly cost-efficient water heater living in sunny parts of the world. But, as with most solar-power systems, this one will also need a back-up plan for cloudy weather.
Maintenance tips
In addition to regularly cleaning the tank, you will also have to take care of solar units.
Pros & Cons
Pros:
Cutting-edge, eco-friendly water heating gear;
Solar-powered water heaters also prove to be highly economical, making for substantial savings on power bills.
Cons:
As of now, such heaters are too expensive, which dilutes their economic potential. It will take you almost forty years to finally see such a model pay off.
Solar water heaters are too dependent on the weather and will require traditional back-up solutions.
PART FOUR: WHERE TO BUY A NEW WATER HEATER
Lastly, in this final section of our guide, we will give you two fundamental ideas of where you can purchase a water heater. This part is essential for those who have never owned a water heater before and just don't know where to start.
1. SEARCH ONLINE
However, you don't necessarily have to go anywhere these days to buy something you need. You can always find, choose and order products online. Water heaters are no exception. Order a model at your local home improvement store's website or try checking other specialized online stores, or you may check Amazon's offers if you need a smaller water-heating unit.
2. TRY YOUR LOCAL TOOL SHOP OR A BIG-CHAIN EQUIPMENT STORE
Firstly, why not check your local tool shop? Such small stores may have a few models to choose from. If they don't have something you're looking for, they may tell you where to get the product you need. Or they may even order it for you. In the latter case, you will have to wait a bit and maybe pay an extra shipping fee.
Secondly, a great place to look for a water heater is an equipment store from one of the bigger retail chains. There you will find a wide range of water heaters of all types and modifications. Plus, you may ask for assistance from professionally-trained personnel to help you choose the right water heater for your home.