Did you notice that more and more people move to small towns near the capitals or huge cities now? It is an interesting urban process because only 30 years ago big and popular cities were overcrowded by coming residents. Life in such places is too fast, so many people face burnouts, everyday rush, and many useless social contacts. It is the main reason why suburbs became so popular a few years ago.
Having a house in the suburbs, you can always be confident that you can visit your calm shelter every time you feel overloaded. It is a perfect way to avoid masses of information on the Internet or in the real-life and make holidays for your brain. If you need professional plumbing help – hire great Sacramento plumbers team – 5 Star Plumbing today!
Of course, it is not easy to select an appropriate place for a suburban home and find affordable variants of property because of the high demand for such buildings. That is why we prepared a comprehensive guide with a description of the top Sacramento suburbs you can choose from.
RANKS OF SACRAMENTO SUBURBAN AREAS 2020
Probably you have some criteria that are more important for you in the selection of living areas than others, but we collected data from the Census 2020 with the most significant factors for people. So, here is the list with the aspects you should pay attention to:
Costs of services and property;
Availability and affordability of health services;
The average income in the area;
Density and growth of population in the area;
Distribution of education levels citizens obtained;
Level of unemployment, poverty, and criminality.
Then we made a list of top suburbs based on these criteria and the main definition of a suburban area. We determined suburbs as places of residence with more than 6,000 people living in them and located at least 30 miles from Sacramento.
1. FOLSOM
The population of Folsom is its main advantage — they are representatives of the upper-middle-class. The cause for this was high income and low unemployment in this town. The greatest population growth started here in the 1980s when the citizens of Sacramento chose this small and historic city as their provincial residence.
Pros:
Prevalence of groups with high education;
Availability of quality education for children;
Popular football team;
Breathtaking views from terraces;
Low level of criminality and poverty.
Cons:
Folsom is becoming to be a part of Sacramento;
Noisy highway;
Faults in the water supply because of excessive water usage.
2. ROCKLIN
Rocklin is attractive to people by its high annual income of about $100,000. It is also located not far away from Sacramento, which makes the level of life high here. Besides, it influences prices for the estate that are now affordable only for wealthy people.
Pros:
Low crime rates;
High incomes;
Almost every citizen has health insurance;
Availability of high-quality education organizations.
Cons:
Overestimated costs for services and property.
3. ROSEVILLE
Similar to the previous two areas, residents of this suburb are rich people. However, the history of Roseville is more eventful than in Rocklin and Folsom. Roseville was known before the migration of people from cities to suburbs because of the essential railway station located in it. In the 1990s, it was a town with the highest population growth rate because of the foundation of Automall in 1989.
Pros:
A prestigious living region with luxury residences.
Cons:
Poor quality of roads: Interstate and Highway 65;
Low capacity of schools and lack of educational organizations.
4. DAVIS
Davis is a town near Sacramento that is known by the popular university in it. Students from different areas come here to get scholarships and receive a top education. Also, Davis is attractive for young spouses who want to bring up their child in a calm atmosphere but provide him or her with all the necessary facilities. However, this town is not affordable for every student or young man, and that is why there is a huge flow of moving people.
Pros:
Possibility to obtain an excellent education;
Availability of all needed services and conveniences;
Voting regarding building development — control over the population growth;
Everyday improvement of infrastructure and quality of life.
Cons:
High prices for facilities and estate.
5. ELK GROVE
Elk Grove became populated in the 1990s and was one of the biggest suburbs in Sacramento. This overcrowded place faced crises, and annual household income decreased significantly. Nowadays, it is still the 6th most expensive suburban area near Sacramento, but the perspectives here are lower than in Davis. There is a problem with employment because of extremely fast population growth. So, you can be out of work in Elk Grove.
Pros:
Wealthy population (every fourth citizen has own property);
Plans for future developments of the town through Kemmerer Road.
Cons:
Lack of well-paid positions.
6. LINCOLN
Bay Area retired its established residential community in Lincoln several years ago, and from that time, it has one of the most developed economic systems in the Sacramento suburbs. Authorities of Lincoln offer working places for almost every citizen, and it helps to keep a low unemployment rate.
As you may suggest, expenses in Lincoln are high in all aspects of life. Estate, restaurants, services are not affordable for an ordinary person from Sacramento here.
The government controls population growth in Lincoln and is trying to prepare the town for a higher number of citizens. They started from transportation problems and built Highway 65 bypass to reduce loading on the roads.
Besides, official representatives were blamed for stealing money from the budget of Linkoln, and now new officials govern the town.
Pros:
High level of life;
Developed infrastructure;
Easy transportation.
Cons:
High prices for everything;
New authorities are in the process of integration now.
7. LOOMIS
Loomis is located in Placer County and has a small population in comparison to other described towns. There is a fast route from Loomis to the big city that is 20 miles from it.
Residents of Loomis are educated people, and most of them have personal property here. Even though household income in Lincoln is higher than in some cities, it is an affordable town for the common life.
Citizens of Loomis are conservative, and they have top-quality public schools and other educational organizations. Moving here is a great opportunity for young families to provide safe life and provision education.
Pros:
Quick access to the city;
Public schools;
Low and medium prices for property.
Cons:
A small population (if it is a disadvantage for you).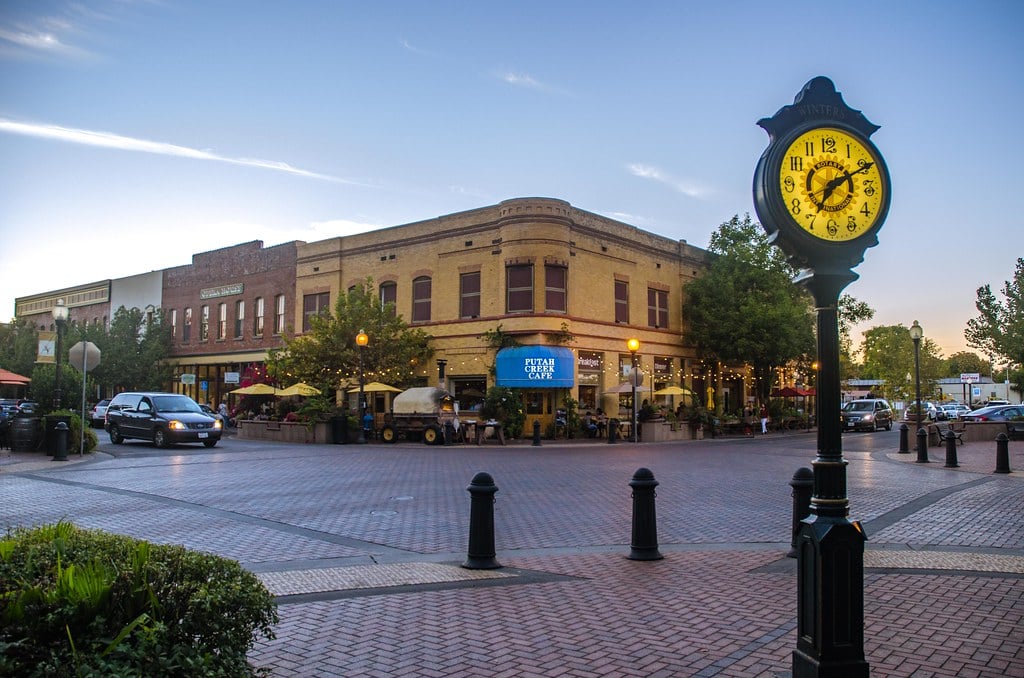 8. WINTERS
This town is not so popular now, but it has many benefits compared to other ones. The history of Winters is short — Theodore Winters owned a huge ranch in the area of this town. Nowadays, it is a modern living place with a developed transportation system. So, you can easily go to Sacramento using public transport and making a couple of transfers.
Salaries here are high according to statistics — 95% of residents have the opportunity to buy health coverage.
Pros:
Low level of crime, poverty, and unemployment;
Premium school education;
Accessible transportation system;
Reasonable costs for facilities.
Cons:
The high cost of property and maintenance
9. RIO VISTA
It is an almost empty suburban area located in the delta of the Sacramento River. Rio Vista has a lot of magnificent viewpoints, so you can always enjoy a walk here. However, only 25% of the town is populated now. It means that there is still enough place for innovations and the best decisions about building development.
When people started to move to Rio Vesta, prices for estate rapidly increased. It is the reason for the low migration flow to this town now.
Pros:
Delightful nature and surrounding;
Low level of population density.
Cons:
Low average neighborhood income;
Expensive property.
10. CITRUS HEIGHTS
This small town is not a desirable place to live for most Sacramento residents, but it has a great potential to be the main competitor of other suburbs. Its development was noticeable in the 1970s when there was a foundation of the first multiplex cinema.
Nowadays, it is not as popular as Folsom or Rocklin because of the lack of working positions and poor transportation system. The major part of Citrus Heights citizens has to use the overcrowded highway to get to their working place in the city. It is not the most convenient alternative for them, and usually, they move to other suburbs.
Nevertheless, authorities of Citrus Heights are trying to provide new jobs for people building a new mall with various shops, restaurants, entertainments. It will decrease the level of unemployment and improve the level of amenities here.
Besides, officials want to make a railway to offer people a new way of cheap and fast transportation to the nearest settlements and cities.
Pros:
Cheap estate;
Intentions to provide improvements.
Cons:
Overcrowded roads;
A small number of working places.
UNDEREVALUATED BUT GORGEOUS SUBURBS
Some suburban areas are not remarkable in comparison to described above ones, but they are great places to live without excessive noise and rush. We will give short info about unnoticed suburbs below.
The first pleasant but suffering area is Carmichael. It is a small town with old infrastructure and population. In comparison to other suburbs, there were no significant financial crises, but the problem is a labor shortage. According to the census, a major part of residents here are retired, and there are not enough working people to provide improvements. It will be great if some assisting centers support Carmichael and more young people inhabit it. Besides, Orangevale and Fair Oaks face the same challenges now.
There is an area that is developing now and will take place in the top of suburbs in several years — Rancho Cordova. There are two parts of this town New Rancho and Original Rancho, and they are in different positions of growth now. While New Rancho is attractive for IT companies and workers now, Original Rancho does not provide enough working places for residents. Local authorities plan to build more offices for coming people to increase annual income and raise the level of migration to Rancho Cordova. Moreover, this town has a great location so that it will not take much time to get here from the city. Also, prices here are affordable for young families, but they can change in the future. That is why it is more beneficial to move here now than wait when it becomes one of the best suburbs in Sacramento.
West Sacramento is a rare case of a constantly growing town among other suburbs. It is a place where average income has been rising since the 2000s and will not stop in the nearest future. However, the level of ownership is low in West Sacramento, as well as the level of education. Citizens of this suburban area mostly have college degrees, and it can be a repulsive factor for newcomers. Still, it can be a cool place to stay for you, especially if authorities try to enhance the increase in the level of life in West Sacramento.
The last suburb that should draw your attention is Arden-Arcade. It is a wealthy region where you can find a lot of luxury entertainments and stylish houses. Besides, there is a high-quality swimming club, and one of its previous members became the winner of the Olympic Games. The population in Arden-Arcade is more than 100,000 people now, but it has some drawbacks in the distribution of income. Similar to the number of rich people, there are a lot of residents who live in poverty. There is a huge income gap between these two groups, and it influences people's desire to move here. No one wants to live in a poor neighborhood because of the bad safety and surroundings. So, this aspect, as well as the low level of ownership, can stop you from selecting Arden-Arcade.
SUMMING UP
Selection of a place of living is an important and a big step for every person, and that is why deep research of alternatives is essential here. The environment around you will affect your physical and mental health. Make sure you know what factors are more significant for you than others while you choose suburbs for constant living.
Do not forget that there are everyday changes and improvements in everything today, and that is why you should not immediately discard worse options. There are cases when a suburban area has a lot of opportunities to develop and introduce innovations in the town facilities. We recommend you spend more time planning and exploration of long-term prospects of living in the towns to make the best decision for your future life.